October 1st 2016 – October 29th 2016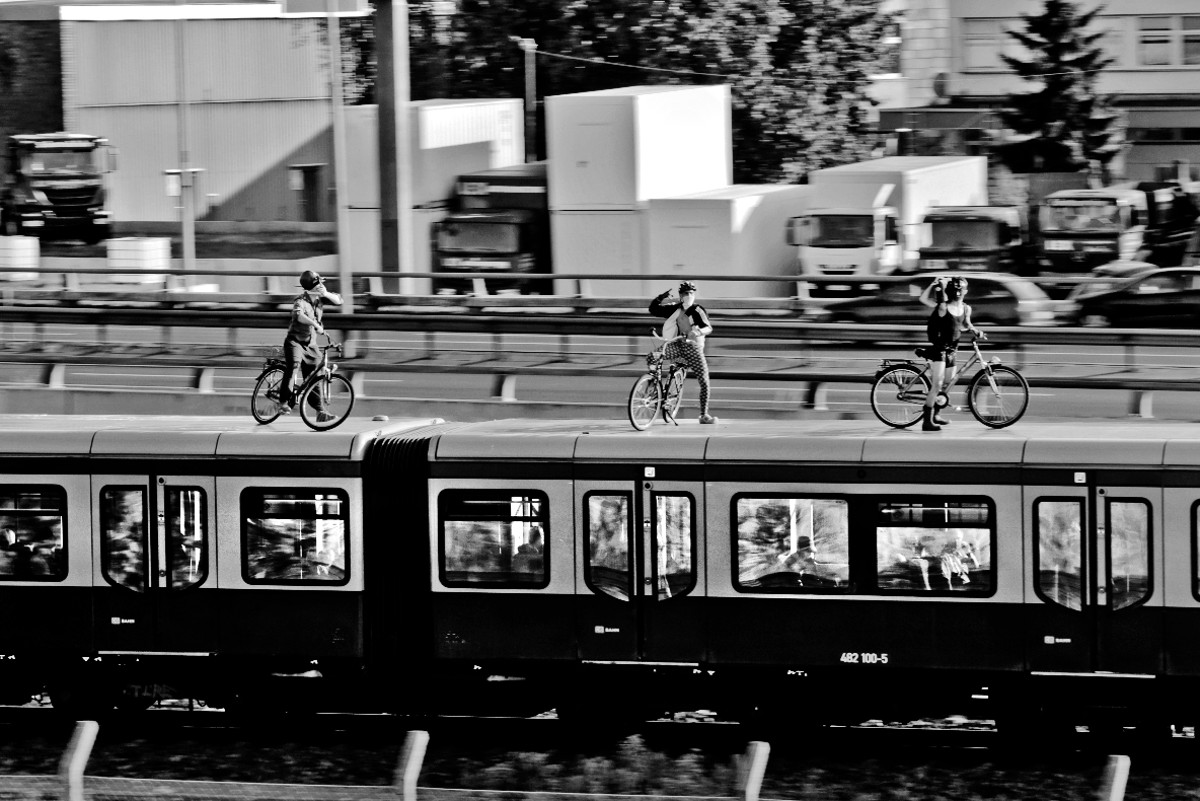 Trainsurfing. Graffiti. Parcour. The whole thing executed in disguise and in dizzying heights.
Thomas von Wittich's
photo series about the notorious "
Berlin Kidz
" feels like we're watching something we actually should not be seeing. While the mainstream still tries to reduce the actual intentions behind these actions to pure show value, von Wittich's impressive black and white imagery – that seem to comfortably locate itself between the work of Brassai and Martha Cooper – introduces one of the last real subcultures to us and carefully decodes once and for all that there is a lot more to discover than just risky stunts. OPEN WALLS Gallery is pleased to present
Adrenaline
, an exhibition of striking photographs by Thomas von Wittich that will take place in October 2016 as part of the European Month of Photography.
European Month of Photography (EMOP) is the largest and one of the most prestigious European photo festivals founded in 2004 when photography enthusiasts in Berlin, Paris and Vienna decided to put photographic art at the center of public attention for a month at least every two years. In 2006, Bratislava, Moscow, Rome and Luxemburg joined the project. In 2012, the European photography network was expanded to include Budapest and Ljubljana, while Athens joined two years later. In October 2016, the audiences in these European capitals will enjoy amazing exhibitions in the renowned museums and galleries, as well as variety of culture events and shows that accompany the festivals.
Thomas von Wittich (b. 1983) moved to Berlin in 2008 already – not necessarily because he needed to escape the limitations implied by a small town like his native city Osnabrück, but because his passion for capturing the changes and interactions within an urban environment basically left him without any other option. In the course of his career he equally internalized the advantages a camera like a Leica R4 has to offer and flirted with the endless possibilities of digital photography. His current focus clearly lies in the fields of documentary, in which he puts the spotlight on these kind of protagonists that have significant reasons to convert the night into the day.
Thomas von Wittich · Adrenaline
Vernissage: Friday September 30th 18:00-22:00
Runtime: October 1st 2016 – October 29th 2016
OPEN WALLS Gallery / Schröderstr. 11.1 / 10115 Berlin