12th of April – 25th of May, 2014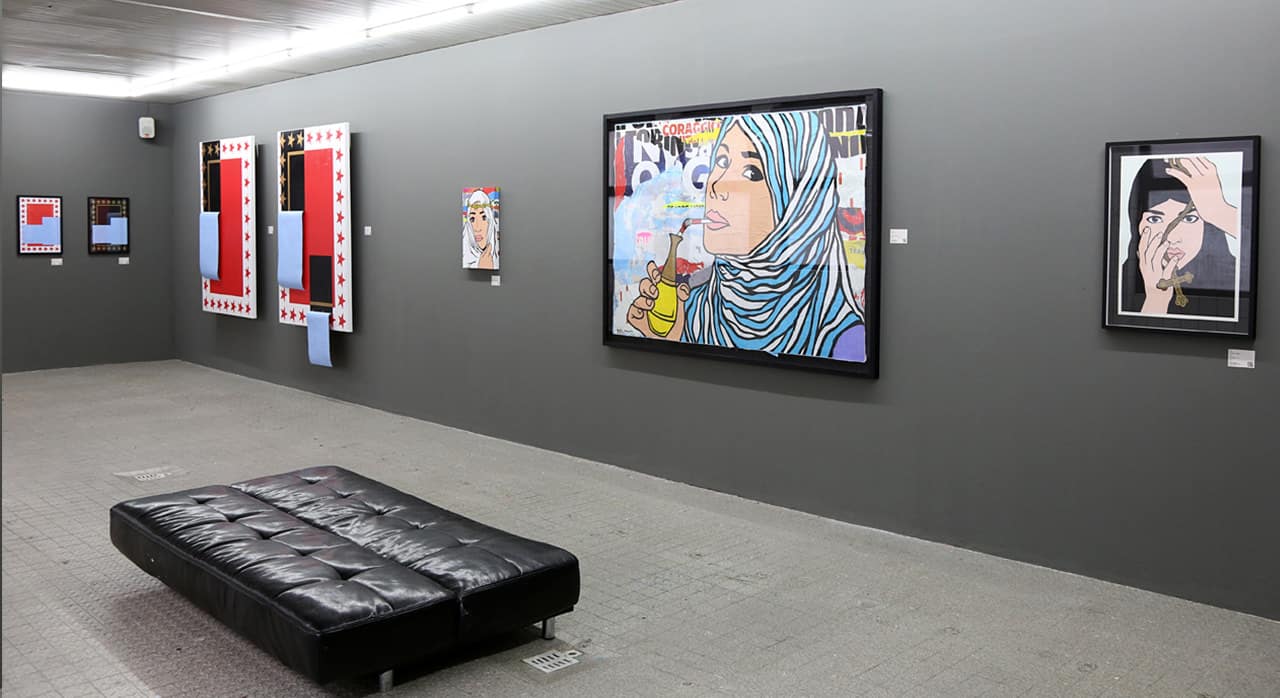 3 artists coming from three different geographical positions in Europe, taking three diverse positions with their artworks on surfaces that lay in the public eye and inside the gallery. Three different artists sharing the same aim to challenge the purpose of advertisement, visual pollution and brands in the marketplace.
POSITIONS is a new cycle featuring artists with particular perspectives, disciplines and practices. Each show will host a very sharp line up with a distinctive positioning. We envision this show to serve as a platform for the gallery to get messages across. This first edition gathers recent works from each artist with the oneness that all the pieces are made with or in relation to advertising posters. Even though their gallery work is considered contemporary art they are all real activists and ad-busters.
Berlin's outdoor advertising network counts more than 300.000 advertising spots, WALL AG (JCDecaux) claims to be one of the world's most technologically advanced networks. As cities grow faster than their economies, most politicians in Europe and worldwide have sacrificed the well being of their citizens for short term profits. As a result, our urban landscapes are getting flooded with commercial advertising to brainwash the consumer.
In various formats and forms, outdoor advertising is now commonly defined as visual pollution that is often ignored. As in contemporary art, outdoor advertising has always been a controversial element of reflection and action: from Rotella to Haring, from Villeglé to Poster Boy. Leading to the standard use of propaganda it's empowered the roles of advertising to face many social issues.
Through their artistic practices, activism and hijacking advertising mediums for their mission to purposely raise consciousness OX, BR1 & VERMIBUS entice us to reconsider the aggressive practices of hoopla that we are constantly subjected to. They reclaim that by replacing commercial advertising panels with art there will be a notable improvement in altering the lifestyle of the community.
OX, who lives and works in Paris, is an urban art pioneer. Since the 80s, his interventions consist of works on billboards that are transformed into islands of color. His style is minimalist and ironic, due to the complexity of the production and it's location for the sake of a carefully thought out context. In this regard, his interventions mark an evolution in the fight against visual pollution.
Turin based BR1's practice follows the same logic. In his case the advertising space becomes a vehicle for social and political messages. A prerequisite to his work are symbols along with the contradictions of the Middle East and the Western World, such as the veil, wars, migration and the atrocities of corporate power. His posters often show paradoxes in ironic ways that bring the viewer toward socially awkward topics.
Vermibus' aim is to transform worldwide advertisement on the streets into cultural spaces for reflection. Caro data vermibus (flesh given to worms) is the origin of the word "corpse" and is precisely where the artist takes his pseudonym from. His modus operandi constitutes of borrowing fashion billboards from public areas and transforming the posters to embody new facades to later replace them back to their natural habitat. He focuses on the clear allusion of the dehumanizing of models in how they are exposed to the process of image retouching in advertising campaigns. The way the artist depicts these iconic images, consists through a technique of disfigurement by the use of solvents. With this gesture Vermibus defies and blurs the beauty standards promulgated by these campaigns introducing to the public the hegemony of these images. Furthermore, the advertising space –which typically contains serial images- now holds a unique and more pictorial piece.