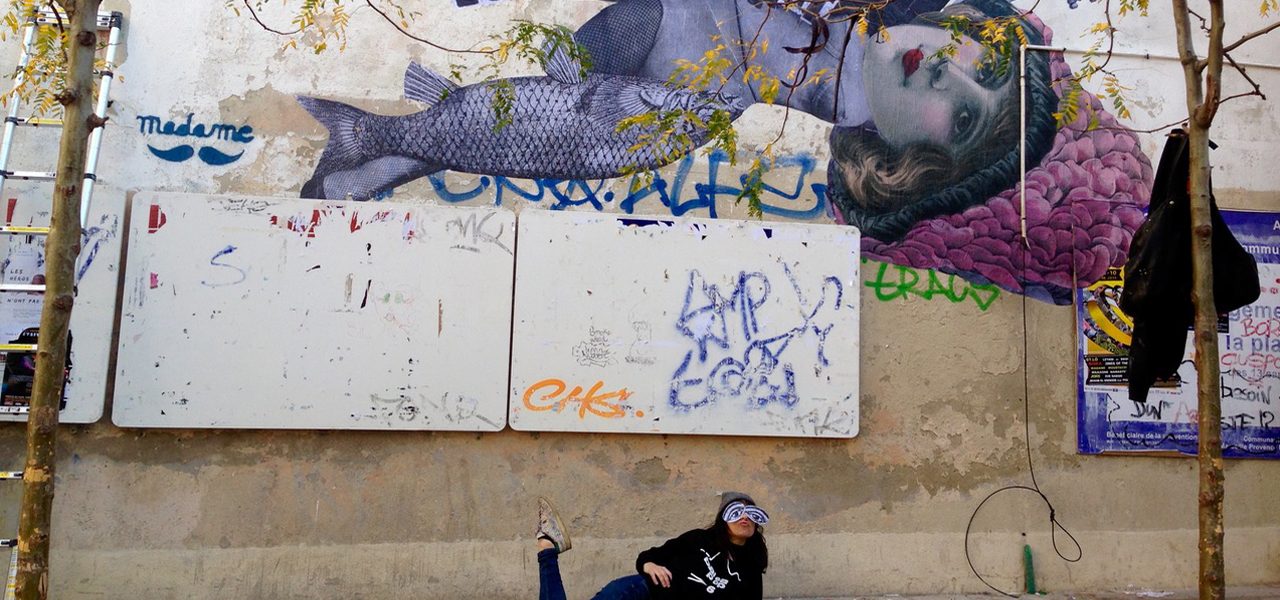 There are many ways to engage in street art, especially since the discipline lets you enjoy other activities as well. However, an actress that turns into a street artist is not something you see everyday. Well, Madame is one of those few people who fall under this category. Her moniker sounds sophisticated and theatrical, just like a stage name for a prima donna, which resonates with the nature of her professional background. But in case you feel like it sounds just a bit too classy, consider her other alias: Madame Moustache. A healthy sense of humor casts a different light on the artist, denoting how ladylike and masculine can overlap at times.
Madame Moustache was born into an artistic family. Her grandfather was a painter, and apparently a very prominent one, since he had decorated the building of the main theater in Tours, the artist's hometown. Her father was skilled at painting as well, and so Madame's genuine interest in art was preconditioned by these circumstances. However, as much as she was familiar with both painting and drawing, she says she somehow couldn't find the right way to "express exactly what she wanted to say". After years of exploration and cultural uplifting, which involved theater studies, Madame eventually found her own favorite genre – pasting. And that's how a new history was made.
Small Steps lead to Happiness – Influences and Inspiration
When talking about her art and art in general, Madame talks in simple terms, concisely and freely. Although her artistic background and experience are admirable, she doesn't seem to let things become too important or consume her, except for the true things that really matter – love, happiness, freedom. Her modesty and soulfulness simply emerge between the lines, here and there: "I love colors and compositions", she says. "I don't think I like a movement in particular. I like to be surprised and to feel small in front of a piece". However, she does have a list of people that inspire her: "But I have various influences, including the Bauhaus, Frida Kahlo (and her blue in particular), Orozco and Rivera (for their power), Robert Frank's pictures, and Peter Witkin, Matisse, Schiele, and Klimt or Chagall. I am a big fan of Georges Rousse".
After listing a number of artists and movements, and very specific details that she likes about them, Madame said that her best inspiration is "daily life, my family, my friends, the small things (which are generally the most beautiful), the people I meet, what scares me, joys, worries, surprises. But love is my motor and my camisole and it inhabits and devours me. Shared love or not, but love in all of its meanings."
Madame Moustache's Technique – Pasting
Having found out about all the layers of her connection to art, we asked Madame to describe her style, in terms of techniques, mediums, materials that she uses.
"I do pasting. I create with old material such as paper, cardboard, engravings, drawings, pictures, fabric, metal, wood, some little paste-ups in 2 or 3 dimensions, which are systematically articulated between images and words. From these paste-ups, these little original pieces (because I only have one piece of the old document I use) I make huge prints I paste (only once) legally or not in the streets. Then I put the picture of the pasting next to the original. It's a journey from the intimate to the public, from the past to the present, to the future to go back to the past …Ashes to ashes…"
Most artists agree that describing their creative process is one of the hardest things to do, perhaps because it is often something natural, intuitive; something that happens mostly without the presence of reason and conscience. However, since Madame seems to be good with words that really get to the point, we dared to ask.
"I look everywhere in my studio to find the elements I have in mind. Once I found them, I compose the image. I usually work in different levels. Every level of work is scanned in order to compose the same image for the printing. Once the piece is finished I send it to the printer who print it in big size. Then I cut it and paste it in the streets. Once the piece is pasted, I take a pic in situ, I print it and paste it on the verso of the original piece. The piece is then 'complete'."
How Theater and Street Art are intertwined
Literature and theater are able to send our minds on a far-reaching journey, from which we return with a bunch of new ideas. Art is one way to pour those thoughts out, and that is how Madame translates her ideas and "obsessions" into the material world:
"Time is very present in my work, first through the medium I use and secondly by the fact that I create a dialogue between different temporalities. This theme touches me particularly because I am obsessed with death (in all of its forms, the goodbye, the oblivion, the end). My work is a fight against death. There is also the recurring theme of the gender, the characters I create are usually gendered and even bi-gendered. This must have to do with my personal story, but also with the theater and the mystery of who hides behind the mask. There are also the theme of the intimacy and the public that are linked to my experience as an actress. And more generally, the theme of love, because it gathers a lot of themes and because it is my motor."
Message to the World
Although it should be evident in their work, most of the people are usually curious about an artist's own words, when it comes to explaining the messages that they want to send to the world. Madame puts it this way:
"If I just had a message it would be about tolerance, freedom, and the acceptance of the other for who he is. In my work, through words or images, I always include humor. An opened door to frivolity, a point of view toward a bluer horizon. To provoke smiles and questions would totally fulfill me. I would like for them to feel that they are somewhere else, a little bit like theater can do".