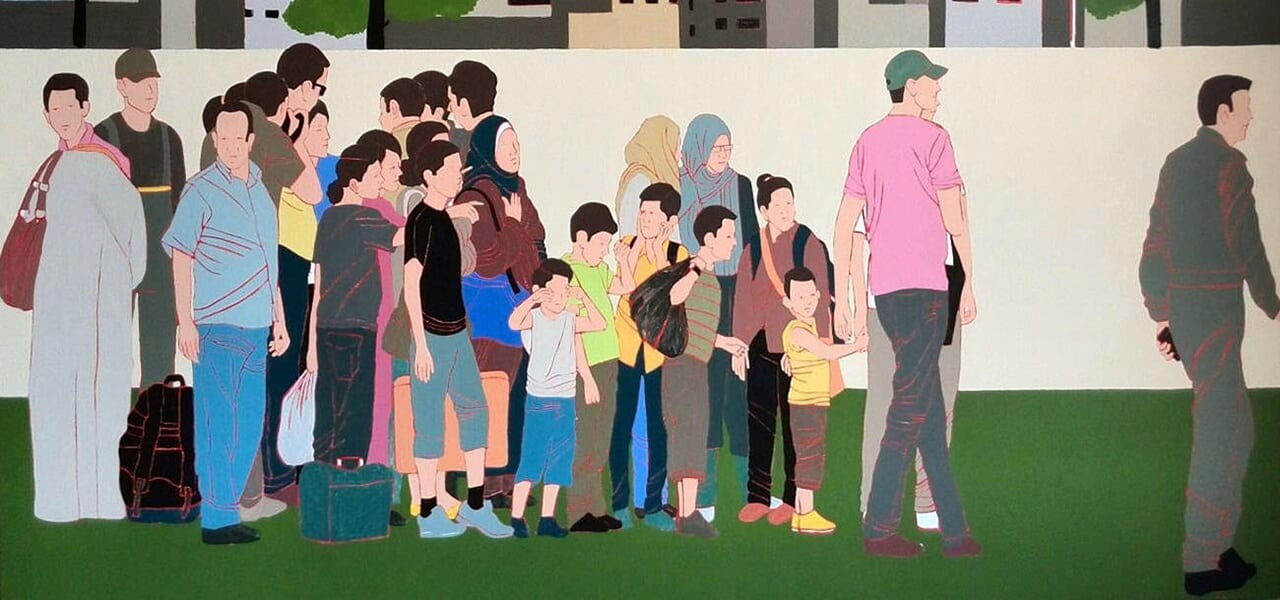 For the last forty years, conversations regarding contemporary Iran have been mostly concerned with country's political context and wider turbulent atmosphere of the Middle East. Iran's reputation as one of the major partakers in the history of civilization and a country that has produced some of the world's most outstanding art has been stained in the last few decades while Iranian artistic production has been overshadowed by revolution, war, sanctions and most recently the nuclear deal. The media-constructed image of Iranian society has made it particularly difficult for people abroad to associate Iran with progressive artistic tendencies and thriving cultural scene that can compete with those of the West. In this regard, it is no wonder that for many viewers it comes as a surprise to discover how rich, diverse and sophisticated Iranian contemporary art truly is. In recent times, the art world has witnessed an increasing interest in modern and contemporary Iranian art, with numerous exhibitions hosted outside the country, exploding prices at auctions, and publications that tend to shatter the distorted image of Iranian culture as being regressive and mired in tradition. Contemporary Iranian art is riding the new wave and emerging talents are playing a major role in changing the common perceptions of Iranian art and culture.

A Brief Look into the Post-Revolutionary Iranian Art Scene
The diversity and heterogeneity found in Iranian contemporary art come as a result of the constant changes in socio-political dynamics of the country in the last four decades. Art historian Hamid Keshmirshekan, one of the leading authorities on contemporary Persian art, explains the current situation on the Iranian art scene by highlighting two main aspects that dominate Iranian art and culture as a whole – incorporation of elements of Euro-American modernity and adaptation of existing art forms. From the conscious appreciation of national identity and search for the authenticity of culture to the intellectual questioning of cultural essentialism and rejections of any specifically Iranian references, art in Iran has crossed a long path since the years of the Revolution. In one of his essays Hamid Keshmirshekan writes: "Through their artistic discourses many young artists seek to disengage themselves from the nationalist agenda which has long dominated aesthetic discussions of Iranian art; instead invoking universalizing and cosmopolitan discourses on websites and elsewhere in order to position their art firmly within a global art scene." The new generation of Iranian creatives, born in the years after the Revolution, is more critical toward expectations to produce ethnic or political art, more inclined to work outside of tradition and closer to the framework of global contemporaneity.

New Generation of Persian Artists
Mahsa Mergenthaler-Shamsaei, founder of the online platform Young Persian Artists describes the new generation of Iranian art practitioners in a similar way. In an interview for The Guardian she says: "If you look at Iranian art history, the referencing has been very Persian, reflective and inward-looking. This new generation is almost the opposite: exciting, fresh and very much outward-looking. You will often be hard-pressed to find any Middle Eastern aesthetics in their work at all. They are the Internet generation waiting to break free. Like the YBAs they are leaving all tradition and preconceived expectations behind in a struggle to express what is relevant to them, with the only difference of having to do so within the framework and challenges presented by working in Iran." In an effort to illustrate this new direction in contemporary Iranian art, Mahsa Mergenthaler-Shamsaei invited four emerging artists from Teheran to create artworks around the universal themes of Hope-Dreams-Desire, which have been featured in the exhibition of the same title she hosted at the OPEN WALLS Gallery in 2015.

Persian Art beyond Middle Eastern Aesthetics
In her introduction to the Hope Dreams Desire exhibition Ms Mergenthaler-Shamsaei stressed that art produced by Iranian Millennials cannot be simply viewed as Iranian or Middle Eastern art and labeled as such. From Adel Younesi's surreal, colorful visual narratives to Romisa Sakaki's sharp depiction of social life and customs, Zahra Shafie's reflections on female roles in contemporary society, and Ali Esmaeillou's fantasy worlds, the exhibition illustrated the collective generational aim to move beyond the local context and address the themes that can easily be found in the art of their peers in other countries. Although the sociopolitical context stays widely present in the works of many young Iranian artists, as the reality they live and create their works in, the subjects and themes they visualize cannot be subdued under the same old monolithic concept or be examined outside of their relation to global movements and institutions.